BISHOP VISITS BROTHER BEAUSANG CATHOLIC EDUCATION CENTRE
For the first time, the Catholic Bishop Ngong Diocese, Rt Rev Bishop John Oballa Owaa visited Brother Beausang Catholic Education Centre. The visitation took place following Class Eight farewell Holy Mass which was held on 30th October, 2013 at Mary Mother of God Church. The Principal had written to the Bishop earlier in the year inviting him to the October 30 celebration and the Bishop was delighted to accept to lead the ceremony and to make his first visit to the school.
The last time Brother Beausang Catholic Education Centre had hosted the Bishop of Diocese of Ngong was almost six years ago. It was the grand opening and blessing of the now Mt. Sion building where lots of dignitaries attended including the late Prof. George SaitotiOn. In 2013 he had come to bless the class Eights who were about to sit for their 2013 national exams. The Class Eight presented a well dramatised Gospel on the Parable of the Sower. The students were blessed by the Bishop's precise homily and he prayed for them to be able to recall all that they had read throughout their primary education. The Parents of the candidates enjoyed the celebrations and also actively participated in the blessing.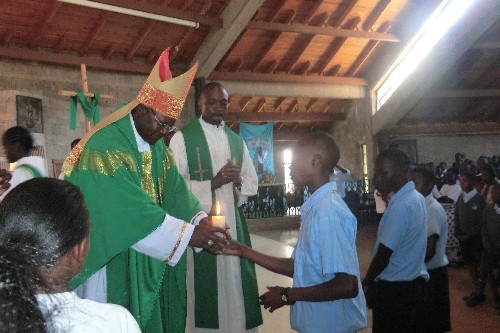 After mass the Bishop accompanied by the Staff, Students and Parents processed to the Brother Beausang grounds. As bishop came down to the Brother Beausang compound he was given a guard of honour before he was welcomed by pre-school pupils who presented him with a bouquet of flowers (see pictures below). He then signed the visitor's book at the Principal's office. The Bishop took a tour of the school accompanied by the Deputy Principal, Br. Simon Kaswahili along with the Head Teacher Primary Mrs. Eva Njagi, and the Development Officer Mr. Mercilinus Ounde, climaxing at Primary assembly area where the Bishop and his hosts paused for entertainment; A poem 'Yolo' and A folk song from the lakeside,which the bishop helped his host interpret. It was quite entertaining!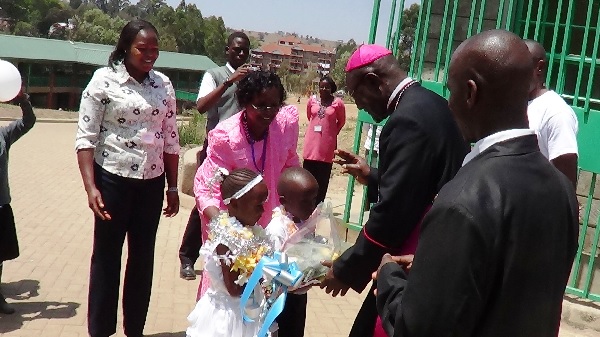 Immediately after the entertainment, the crowds proceeded to Kevin McGarry library hall where tea and snacks were served. All who entered the hall either ate or drank something or both. The library was packed to capacity. It accommodated about seventy people including some Beausang staff members, the Parish Priest, Parish Council Delegates, the Catechist, Parents, students, and the Bishop himself. The cake which was written "Karibu Baba Askofu" meaning welcome Bishop was cut and shared. There were few speeches afterwards. While the Deputy Principal's speech summarized the history of the school and its success and challenges, the Bishop's was precise and straight to the point. He reassured the school of his mutual support. He said he was ready and willing to cooperate with the school to support the needy.  That the school was doing a good job to focus on the neglected in the society. From the Deputy Principal's speech, the Bishop was made aware of the school's plans to erect a multipurpose hall and more classrooms. In response, the Bishop said he was willing to offer the school any support he could. He finally wished and hoped for better performance for Class Eight 2013 candidates in their Kenya National Examinations.
The bishop promised to award the first three candidates in addition to what one parent had pledged to gift the top ten candidates. The bishop also encouraged parents to adopt education as the number one priority. He said that even wild animals fed their young ones and so parents in addition to providing food, and shelter they should provide quality education to their children. The bishop reiterated that the diocese would support the school in any way possible to ensure that the vision and mission of the school is achieved. The bishop applauded the teachers and the parish priest for adopting spiritual growth masses every week.  He also observed that the students and staff at Brother Beausang had a unique opportunity and they should seize the day.
At the end of the event , the Bishop left the school at 1.20pm with lots of excitement. He was impressed with everything and the joy was evident in his facial expression. He said he would be more than willing to come to another celebration if invited, where he would plant two trees, one for that particular occasion and the other for  what he had missed.
Br. Simon Kaswahili